Teeth Whitening in New Braunfels, TX
The advancement of teeth whitening has delivered different methods of achieving that bright, white smile you have always wanted. If you are seeking a cosmetic dentist in New Braunfels, TX, Dr. Todd Smith and Dr. Michael Cole offer Zoom! ™ and a home teeth whitening procedure.
Zoom! ™ In-Office Teeth Whitening Procedure
Zoom! ™ Whitening takes place right in the dental office. It provides a convenient method of teeth whitening that results in lightening your teeth approximately six to ten shades. You have the opportunity to relax and unwind in the chair while your teeth are whitened. A special protective covering is applied to your gums and other soft tissues. Next, a thick, minty gel is applied to the front surfaces of your teeth. An advanced LED light is then directed at these areas, initiating the whitening process. Dr. Smith and Dr. Cole will monitor your progress, removing and replacing the whitening gel every 15 minutes. Depending on your results after the third round of whitening, a fourth may be applied to enhance the effects. A finishing gel, called Relief ACP, is then applied to your teeth for a soothing reduction to any potential sensitivity.
Zoom! ™ Whitening method also includes custom-fabricated whitening trays for you to use so that you can maintain your lighter shade at home. Your clinician will take dental impressions from which custom whitening trays will be created. Instructions will be given regarding the proper use and storage of the take-home whitening trays and material.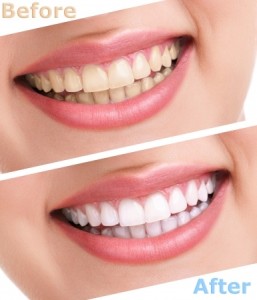 Opalescence Home Teeth Whitening Procedure
Opalescence Home Whitening Method enables to you whiten your teeth in the comfort of your own home, on your own time. Dental impressions will be taken by Dr. Smith and Dr. Cole so that custom whitening trays can be created. Once the trays are complete, the doctors will allow you to try them to evaluate for comfort. Specific instructions will be given along with Opalescence whitening gel for take home use. This whitening gel comes in a variety of strengths. Your bright, white smile can be achieved within five to seven days of use when applied on a consistent basis, so be sure to strictly follow instructions to ensure that you achieve your best results.
A whiter smile is within your reach. Contact your cosmetic dentist in New Braunfels, TX, today to schedule an appointment for your teeth whitening procedure.
At Smith & Cole Laser and Family Dentistry, we believe in providing exceptional care in a friendly and supportive atmosphere. Our doctors, Dr. Todd Smith and Dr. Michael Cole, are experts in their field and strive each day to make patients feel at ease while transforming their smiles. Our office is proud to serve patients from New Braunfels, TX as well as the surrounding areas. We offer a variety of treatment options including the LANAP Laser Treatment, Dental Implants, Sleep Apnea, TMJ, Sedation, Pediatric Dentistry, and CEREC Same Day Crowns. Call (830) 629-1954 to schedule your appointment or click here to request an appointment online!