Porcelain Veneers in New Braunfels, TX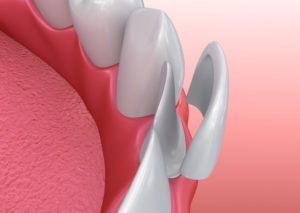 Porcelain veneers are a means of restoring front teeth while enhancing the cosmetic appearance of your smile. A veneer is fabricated to fit over the front portion of your teeth and can be utilized to improve the shade, shape, spacing, and overall look of your front teeth. Dr. Todd Smith and Dr. Michael Cole are laser and cosmetic dentists in New Braunfels, TX who place Lumineers®, the premier type of porcelain veneers.Lumineers® differ from traditional porcelain veneers in a few ways. They are very thin and require less tooth preparation compared with the traditional version of dental veneers, which are often more bulky and necessitate greater tooth structure removal for proper placement. In addition, acrylic temporary veneers are placed after tooth preparation while traditional veneers are being fabricated in a lab, which is not necessary with Lumineers®. Two dental visits are required in order to complete both the Lumineers® and traditional porcelain veneer process from start to finish. Lumineers® are fabricated from an impression taken of your existing tooth structures, and is then sent to a lab that specializes in making these high quality dental veneers. Once your Lumineers® are completed, they are then bonded to the surfaces of your minimally prepared teeth (typically etched to increase the bonding mechanism). These veneers are less invasive than traditional porcelain veneers and often do not require the use of local anesthetic for the procedure, lending to an increase in patient comfort during the visit. Generally, with proper care and maintenance, your veneers can last approximately 20 years, adding value to the cost of porcelain veneers.
The cost of porcelain veneers differs, depending on the complexity of your case. Veneers are a highly cosmetic way to restore teeth that are broken, chipped, discolored, or unevenly spaced. Dr. Smith and Dr. Cole are Lumineers®-certified dentists. If you are interested in dental veneers and are searching for a cosmetic dentist in New Braunfels, TX, call Dr. Smith and Dr. Cole today to schedule your consultation for Lumineers®.
At Smith & Cole Laser and Family Dentistry, we believe in providing exceptional care in a friendly and supportive atmosphere. Our doctors, Dr. Todd Smith and Dr. Michael Cole, are experts in their field and strive each day to make patients feel at ease while transforming their smiles. Our office is proud to serve patients from New Braunfels, TX as well as the surrounding areas. We offer a variety of treatment options including the LANAP Laser Treatment, Dental Implants, Sleep Apnea, TMJ, Sedation, Pediatric Dentistry, and CEREC Same Day Crowns. Call (830) 629-1954 to schedule your appointment or click here to request an appointment online!