Dental Implants in New Braunfels, TX
Dental implants are a highly recommended method of replacing lost or missing teeth. It is vital to the health of your dentition to replace any permanent teeth that have been lost. Spaces that result from missing teeth can cause a need for other restorative treatment if migration of adjacent teeth occurs. Dr. Todd Smith and Dr. Michael Cole restore dental implants and provide implant dental care in New Braunfels, TX.
Teeth have a natural tendency to migrate into spaces where other teeth have been lost or are missing. Dental implants are a recommended option, as the placement of dental implants does not require involving any adjacent teeth.They are made up of three general parts: a titanium or ceramic implant, an abutment, and an implant crown. The titanium implant is surgically placed into the jawbone, usually by an oral surgeon or a periodontist. When fully healed and integrated into the bone, an abutment is attached, which holds the implant crown in place. Dr. Smith and Dr. Cole can then restore dental implants with specialized crowns. Implant crowns are most often made of porcelain fused to high-noble metals. The entire implant process takes approximately three to four months, but is most often recommended for single tooth replacement.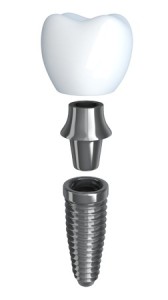 The advantages of dental implants compared with other methods of tooth replacement are significant. Dental bridges require the involvement of adjacent teeth, which may or may not be in need of restoration. Partial or full dentures can be difficult to wear and may elicit social complications if the dentures slip or click while eating or talking, and often require ongoing adjustments. Dental implants look and function like natural teeth and are cared for in the same manner. If a full denture is necessary, implants can be placed into the jawbone to enable the placement of an implant-supported denture.
If you have lost teeth or have spaces due to missing teeth, you may be a candidate for dental implants. If you are looking for someone to restore dental implants,contact Dr. Smith and Dr. Cole, providers of dental care in New Braunfels, TX, today to schedule an appointment for your dental implant consultation.
At Smith & Cole Laser and Family Dentistry, we believe in providing exceptional care in a friendly and supportive atmosphere. Our doctors, Dr. Todd Smith and Dr. Michael Cole, are experts in their field and strive each day to make patients feel at ease while transforming their smiles. Our office is proud to serve patients from New Braunfels, TX as well as the surrounding areas. We offer a variety of treatment options including the LANAP Laser Treatment, Dental Implants, Sleep Apnea, TMJ, Sedation, Pediatric Dentistry, and CEREC Same Day Crowns. Call (830) 629-1954 to schedule your appointment or click here to request an appointment online!