All on 4: Implant Supported Dentures in New Braunfels, TX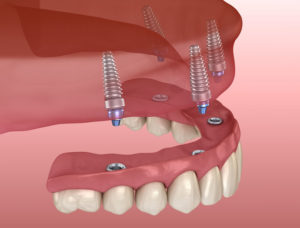 What are implant supported dentures? Regular dentures rest on top of your gums, causing bone deterioration and leaving space that can cause complications such as loose fit, slipping, or clicking sounds. Implant supported dentures are anchored in the mouth through attachment to dental implants. This type of dentures is most often used in the lower jaw where removable dentures are less stable, but can also be used in the upper jaw also.
Implant supported dentures are snapped into place on top of dental implants. This provides a secure fit and hold, eliminating looseness or slipping without the need for paste or adhesives. Implant supported dentures are designed so that they can be removed for regular cleaning, or you can opt for fixed implant supported dentures, which function as permanent teeth.
When fitting bar-retained dentures, three or more dental implants are placed into the jaw bone. Metal bars then run along the gum line between each of the implants. The denture rests on the bars, attaching with metal clips. This structure secures the denture's placement without the need for the steel studs used in ball-retained dentures. Many patients have opted for this alternative as it eliminates the rubbing, loosening, and discomfort associated with traditional removable dentures.
Ball-retained dentures, also called stud-attached dentures, function with a ball and socket mechanism. The denture base has several sockets that line up with balls placed on dental implants in the jaw bone. The balls and sockets fit together for an extremely secure fit, allowing for an open palate denture. Ball and socket attachment is even less likely to slip or move, restoring the patient's ability to eat and speak regularly.
At Smith & Cole Laser and Family Dentistry, we believe in providing exceptional care in a friendly and supportive atmosphere. Our doctors, 
Dr. Todd Smith
 and 
Dr. Michael Cole
, are experts in their field and strive each day to make patients feel at ease while transforming their smiles. Our office is proud to serve patients from New Braunfels, TX as well as the surrounding areas. We offer a variety of treatment options including the 
LANAP Laser Treatment
, 
Dental Implants
, 
Sleep Apnea
, 
TMJ
, 
Sedation
, 
Pediatric Dentistry
, and CEREC Same Day Crowns. Call (830) 629-1954 to schedule your appointment or click here to request an appointment online!