Crowns and Bridges in New Braunfels, TX
Dental crowns and bridges are fixed, prosthetic treatments that are widely used to restore teeth and replace missing teeth. Dr. Todd Smith and Dr. Michael Cole are laser and cosmetic dentists in New Braunfels, TX that provide these restorative treatments.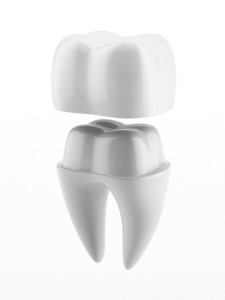 Dental Crowns from a Cosmetic Dentist in New Braunfels, TX
Dental crowns are a common method of restoring teeth that are beyond the need of a filling. When a tooth is fractured, badly decayed, or otherwise unable to be restored with a filling, a crown is usually the recommended course of action. Crowns require two visits for completion. At the first visit, the tooth is prepared by removing decay and old fillings. Then a composite buildup is bonded to the tooth, which provides the structure to which the crown will adhere. An acrylic temporary crown will then be fabricated and temporarily cemented to your tooth. This acts as a place holder while a dental lab fabricates your new crown. It is important to note that in the event your temporary crown comes off in between visits, you must immediately call the office to report this occurrence. Given that the temporary is holding the space for the permanent crown, migration of surrounding teeth into the space can occur, resulting in the inability of your new dental crown to properly fit.
Dental crowns may be fabricated from several different materials, but Dr. Smith and Dr. Cole specialize in the highly aesthetic CEREC crown procedure. Patients who choose CEREC crowns appreciate the advantage of having only one dental visit. These dental crowns are made of ceramic and are widely considered to be one of the top cosmetic restorations in use. Your CEREC crown is designed by a specialized computer and fabricated by a machine located right in the dental office. The ability to have your dental crown prepped and placed in one visit is a time saving benefit to consider when choosing the type of crowns to restore your teeth.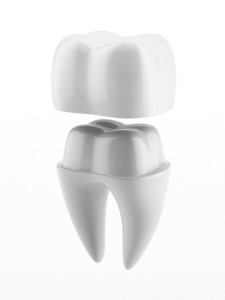 Dental Bridges from a Cosmetic Dentist in New Braunfels, TX
Dental bridges provide tooth replacement when teeth have been lost or are congenitally missing. A dental bridge is three or more crowns that are fused together and thenDental Bridge cemented to the teeth adjacent to the space. The crowns that sit on either ends of the bridge are called abutment crowns and those in between are called pontic crowns. Bridges can be fabricated in a variety of materials, but are most commonly constructed of porcelain fused to high-noble metals.
If you think that you may be in need of dental crowns or bridges, please contact Dr. Smith and Dr. Cole, laser and cosmetic dentists in New Braunfels, TX, today to schedule your consultation.
At Smith & Cole Laser and Family Dentistry, we believe in providing exceptional care in a friendly and supportive atmosphere. Our doctors, Dr. Todd Smith and Dr. Michael Cole, are experts in their field and strive each day to make patients feel at ease while transforming their smiles. Our office is proud to serve patients from New Braunfels, TX as well as the surrounding areas. We offer a variety of treatment options including the LANAP Laser Treatment, Dental Implants, Sleep Apnea, TMJ, Sedation, Pediatric Dentistry, and CEREC Same Day Crowns. Call (830) 629-1954 to schedule your appointment or click here to request an appointment online!